"Casper the Friendly Ghost: The Complete Collection (1945)"
commentaries by Mark Arnold (Editor of The Harveyville Fun Times), Edmee Reit (Widow of Casper Co-creator, Seymour Reit), Voice Actor, Bradley Bolke And Alison Argrim
Available Now!

Includes two slimline case clamshells; one featuring two theatrical discs and the third disc in its own case features all of the "New Casper Cartoon Show" episodes.

The 20-page full-color booklet looks fantastic. Written by Mark Arnold, it is crammed with tons of information including where every episode appears in comic books, when applicable.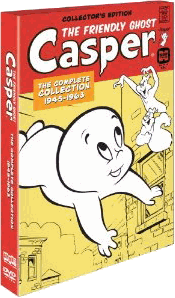 My latest book,
"Mark Arnold Picks on the Beatles" Available Now!

Mark Arnold Picks On The Beatles is a song-by-song review by Comic Book and Animation Historian Mark Arnold of literally every song The Beatles ever recorded, both group and solo, released and unreleased.

The book features previously unpublished artwork by Bill Morrison (The Simpsons), who also drew the front cover, Jack Kirby (in a drawing presented by Kirby to Paul McCartney back in the 1970s), Patrick Owsley (Classic Media licensee artist) and many, many others.

Available from publisher in both paperback and hardcover

Paperback Edition
"If You're Cracked You're Happy!"
"If You're Cracked You're Happy!"
Available in two volumes from


Vol. 1

Vol. 2
A remarkable and amusing retrospective of Cracked magazine, the best-selling humor magazine in the world . . . if you don't count Mad! The secret origins of the magazine, covering its history with former and future Mad and Marvel Comics contributors John Severin, Jack Davis, Don Martin, Bill Elder, Jack Kirby, Steve Ditko, and Al Jaffee, along with Cracked veterans Bill Ward, Don Orehek, George Gladir. Cracked was responsible for launching the careers of award-winning alternative cartoonists, including Dan Clowes, Peter Bagge, and Bob Fingerman. Crammed with creator interviews, rare photos and art, and a complete checklist of every issue! A must for comics fans and purveyors of popular media.
"Created and Produced by Total Television Productions--The Story of Underdog, Tennessee Tuxedo and the Rest"
Here at last is the real story of how TTV was formed! Inside you will find rare production artwork and storyboards, as well as reminiscences from TTV's founders.
"Mark Arnold is the guy who the other authorities on comic books and animated cartoons turn to when they're stumped for an obscure tidbit of pop cultural information; he always delivers the goods." - Scott Shaw, cartoonist